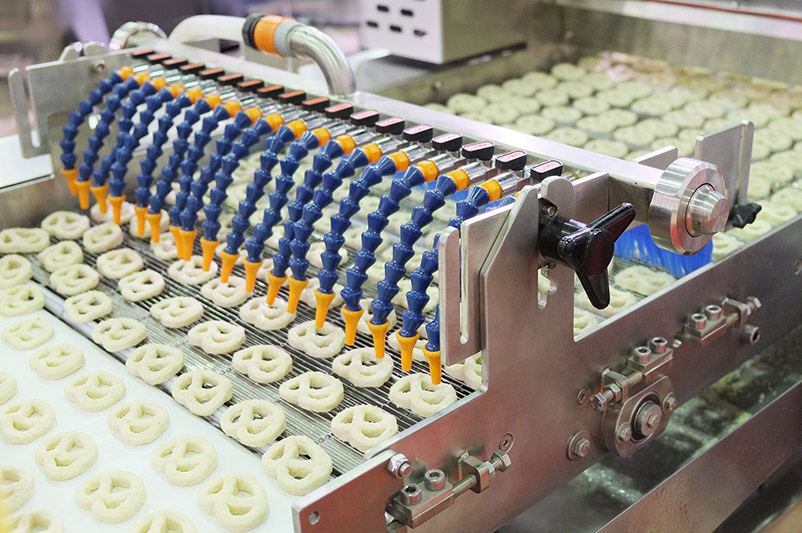 Nylon powder coatings are as diverse as the many industries that use them. One often-overlooked application is that of food production and processing. From the farm to the dinner table, powder coatings help to ensure our food is safe to consume.

Of course, not all coatings are suitable for this purpose. Food processing equipment and containers must meet certain standards to be considered food grade in Ontario.
Specialized food grade industrial coatings are often necessary for both the longevity of part and the safety of the food it touches. The right choice coating can make the equipment easier to clean and sanitize. However, it must also be non-toxic, non-absorbent, and free from defects (like cracks or crevices) that could harbour bacteria.
Which Industrial Coatings Are Considered Food Grade in Ontario?

In Canada, Health Canada and the Canadian Food Inspection Agency (CFIA) set policies and standards to ensure a safe food supply, including the safety of the equipment we use to process food and the materials we use to transport it. The American equivalent, the Food and Drug Administration (FDA), oversees this area in the United States.

The choice of food grade powder coating for a part will depend on the manufacturing process. Parts that will be placed in an oven will have to withstand high temperatures; parts that will be submerged in liquid must have a high resistance to corrosion. Non-stick coatings with a low friction coefficient are often sought in the food processing industry as well.

The type of food ingredient in question may also play a role in the decision. For example, certain materials are more susceptible to corrosion on exposure to acidic foods like pickles or tomatoes.

The number of industrial coatings considered food grade in Ontario is too numerous to list. Below are some of the most common categories of food grade powder coatings in use:
Polytetrafluoroethylene coating (PTFE): A thin, non-stick coating that stands up to high temperatures. It does not absorb liquid and has a low friction coefficient. Non-stick cookware and bakeware often use PTFE coating.
Fluorinated ethylene propylene (FEP): This food grade coating option is flexible and highly resistant to chemicals but lacks the high-temperature resistance of PTFE. Like PTFE, it is non-absorbent.
Antimicrobial coatings: A wide variety of food grade industrial coatings come with antimicrobial properties, which reduce the spread of bacteria and food-borne illnesses. Some contain an active ingredient that kills bacteria, while others resist them passively by preventing microbes from sticking to the surface of the part.
Rislan Nylon 11: This durable and versatile polymer coating boasts a low friction coefficient that makes it easy to clean. The main ingredient is Castor beans, which makes Nylon 11 100% renewable and environmentally friendly.

Here at Plastico, we've used Nylon 11 to coat everything from fryer baskets to pot handles to cutlery, food trays, and even seafood traps. While it doesn't taste quite as good as it looks, it does qualify as food grade!