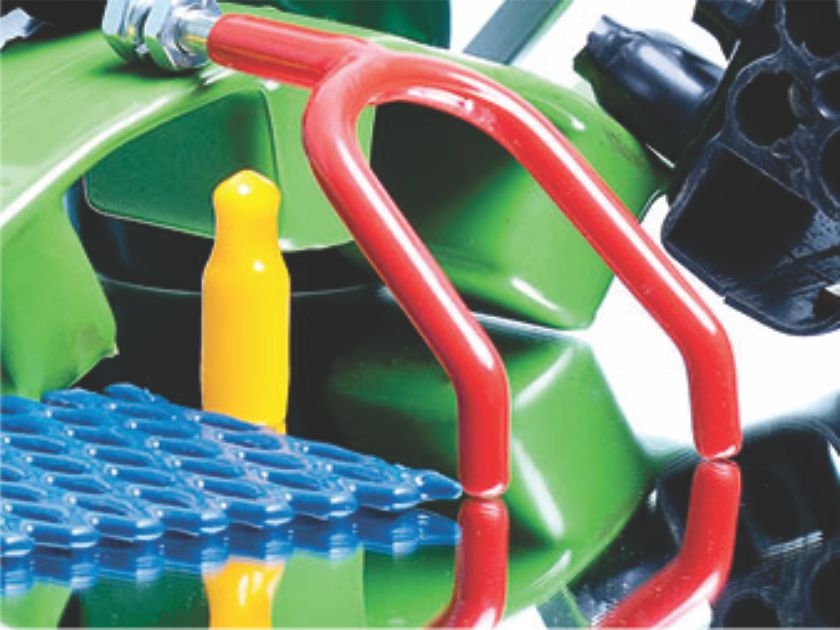 When most people hear the word Plastisol, they think of the silk screen techniques that prints glossy images onto t-shirts. 
But as someone in manufacturing, you know that Plastisol is also used for an ever-expanding list of industrial molding and dip coating applications.
Plastisol isn't a liquid paint or powder coating, but rather a polyvinyl chloride or PVC-based product made of synthetic plastic polymers. Using additives, it is possible to customize Plastisol in a variety of ways, including its:
Texture
Colour
Hardness
Rigidity
Flexibility
UV-resistance
Abrasion-resistance
Since it can be customized to meet so many specific needs, Plastisol is a common solution to many coating problems.
If any of these challenges sound familiar, Plastisol could be the solution for you!
1. You Need a Coating That Won't Break Down Easily
Plastisol is thicker and more flexible than many paints and powder coatings, with good surface adhesion. It's also highly resistant to elements that can cause other films to degrade, including chemicals and UV radiation.
This is one of the reasons why Plastisol has garnered interest from the medical community as a coating for stainless steel equipment and instruments.
2. You Want a Coating That is Soft, But Durable
PVC comes in two basic forms: rigid or flexible. Our Plastisol is one of the latter. 
It's tough and weather-resistant, but remains relatively pliable - which makes it an ideal coating for playground equipment and outdoor furniture.
3. Your Coating Needs to Be Food-Grade
Not all coatings are suitable for food containers, cooking utensils and other things that go on the dinner table. All food processing equipment and products must meet the criteria established by Health Canada to be considered 'food grade.' 
The good news is, Plastisol can fit the bill. It's the coating of choice for many agricultural, food processing and culinary products. Even spoons for babies are dipped in Plastisol! 
Here at Plastico Industries, we've switched to a phthalate-free plasticizer for our Plastisol to ensure that it's safer for customers, employees and everyone involved.
4. You Need a Water-Resistant Coating
Plastic has a reputation for being nigh-indestructible in nature (doesn't it take thousands of years to biodegrade?) In reality, many plastic coatings will break down with prolonged exposure to water, which puts the underlying surface at risk of developing corrosion. 
Not Plastisol. Its water-resistance makes it perfect for parts and equipment that are exposed to freshwater, saltwater or high levels of humidity. You'll find it widely used in the marine industry and fishing tackle manufacturers.
5. You Need to Prevent Mold
Along with its impressive water-resistance, Plastisol also resists another moisture-related problem: mold and mildew. 
Plastisol is nonporous, so it will not trap moisture as readily as more porous material like vinyl. Agricultural equipment is often coated in Plastisol for this very reason.
Our Plastisol Coating Capabilities
As you can see, Plastisol is used across many different industries. In the 20 years we've been dabbling in Plastisol, Plastico Industries has coated products in all these industries and more! We make it in-house and use it daily to coat upwards of hundreds of thousands of parts. 
Plastico has four different machinery lines dedicated to Plastisol dip coating, which gives us the flexibility to coat all kinds of parts in small or large volumes. We have the ability to formulate the coating to meet specific applications, including stringent military and automotive specifications.
Contact us today to learn more about Plastisol and decide if it's the right coating for you.