Aquence®, previously branded as Autophoretic® and known also a-coat, is an environmentally-sustainable dip coating made exclusively for parts made of iron. This thin but highly durable rustproof paint is widely used as an industrial metal coating for automotive parts.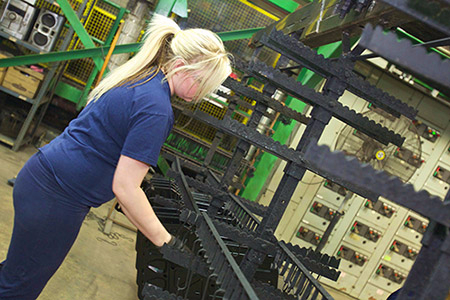 Why use Aquence coating? Whether you call it Aquence, Autophoretic or a-coat, the product offers solutions to many common metal coating concerns, including:
Coating fully-assembled parts
Coating parts with a complex shape
Protecting parts from scratches or corrosion
Providing a very thin coating (between 0.5 and 1.0mm in thickness)
Minimizing environmental impact
Coating iron parts while leaving other metal parts untouched
Able to Coat Fully-Assembled Parts
Aquence has the ability to coat entire parts, inside and out, which is a rare feat for an industrial rustproof paint. The coating uses an organic polymeric emulsion to chemically bond to the surface of iron. This property makes it possible to produce a uniform coating parts that are already partially or fully-assembled.
Superior Throwing/Wetting Power
The consistency and properties of Aquence coating make it ideal for coating iron parts that have an odd or complex shape. Aquence has nearly unlimited throwing or wetting power, providing uniform coverage even in those hard-to-reach areas other coatings leave dry. And since it bonds with a chemical reaction, you can trust Aquence to coat every iron surface it touches.
Durable, Scratch-Proof and Corrosion-Resistant
Aquence uses a chemical reaction to forge a highly durable bond to clean iron surfaces. Though it goes on thin, Aquence rustproof coating is remarkably durable, corrosion-resistant, and scratch-proof. Additionally, Aquence has a Neutral Salt Spray (NSS) rating of 1000 hours. This toughness is part of what makes Aquence an ideal choice for demanding applications like vehicle frames and chassis components.
Thin Coating
For parts that will operate with minimal clearance, Aquence can produce an extremely thin coating of between 0.5 and 1.0mm in thickness. Though it goes on no thicker than paint, Aquence coating still provides iron with reliable protection from scratches, salt, and corrosion.
Environmentally-Sustainable
More and more manufacturers have ecological impact on their radar, fuelling an increasing demand for industrial metal coatings that are safe and environmentally sustainable. Aquence 866 is a water-based coating that is free from heavy metals and volatile organic compounds (VOCs); Aquence 930, an epoxy-acrylic urethane coating, contains no heavy metals and a low level of VOCs. Both coatings provide a durable, rustproof surface with minimal impact on the environment.
Bonds Only to Iron
Need to coat an iron part while leaving the rest of the workpiece dry? Aquence 866 is formulated only to bond to iron. The low curing temperature of 220-240° means you can coat iron parts in assemblies that also contain rubber, plastic or Teflon pieces without causing any damage or movement restrictions.
Aquence Coating in Ontario
Plastico remains one of few Aquence coating suppliers in Ontario, and the only Canadian commercial coater to offer metal coating services using both Aquence 866 and Aquence 930. Contact us for inquiries about metal coating services in Ontario.