Plastisol coating is a combination of PVC in a plasticizer to make it into a thick, pliable liquid.    An item is then preheated, dipped in the plastisol and then cured.  Once cured, the coating is both sturdy and somewhat flexible.  Here are some of the benefits of plastisol.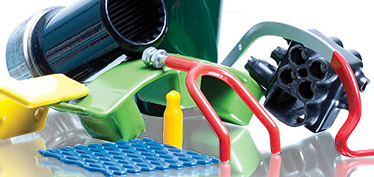 Protection
Plastisol protects metals from corrosion and wear from constant use.  This substance serves as a layer to protect against impacts and abrasion.  Tool handles, automotive parts, medical devices and toys are often coated with plastisol for protection.
Vibration Dampening
Plastisol bonded over metal is an excellent sound dampening option.  Fewer  vibrations can enhance worker safety and well-being, as well as reduce noise pollution.
Improve aesthetics
Plastisol can be manufactured to any color.   Different colors can be used for safety, i.e. red plastisol to mark dangerous items, orange traffic cones, yellow safety guarding on equipment, etc.  Color can also be used to identify size. Many manufacturers color code their items to give an easy visual cue for size.
Masking
Plastisol can also be used for masking.  Electroplating and powder coating companies often use plastisol to mask an area or thread they do not want to coat.  These companies also coat the racks used in their process with plastisol to protect them from the dipping process, allowing them to get multiple uses per rack.
Insulator
Plastisol is also a good insulator.   It is commonly used on busbars for electrical insulation.  Copper tubing is often dipped in plastisol.  Plastic coated copper combines the durability and dependability of copper tube with the corrosion protection properties of PVC.  It is often used in LP/Natural gas applications, fuel lines, and water lines.