HOW'S IT GOING, 'A'?
Yes, we're very proud to be Canadian. But we're equally happy to support any manufacturing facility, regardless of geography. And we're proud of the coating options we offer, including PVC, nylon and Aquence (Autodeposition, or 'A-Coat')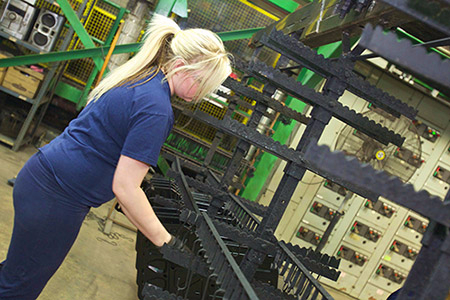 One of those options resides in the middle of our processing plant in Cambridge, Ontario. There, you'll find the only commercial Aquence (a Henkel® product) coating line in the province. When we say commercial, we mean we're the only company who outsources 100% of our line capacity.
To blow up our bubble a little further, Plastico Industries is the only Aquence coater to support both Henkel's® 866 and 930 platforms:
Aquence 866 cures at low temperatures with a matte-like finish. This allows us to coat full assemblies without affecting plastic or rubber bushings, protecting the part's movement.
Aquence 930, on the other hand, is an epoxy acrylic coating with a semi-gloss appearance. It's ideal for a Class B finish or even as a primer coat, depending on the top coat of choice.
AQUENCE COATING — THE RESPONSIBLE CHOICE
The A-coat is considered a faster, more environmentally-friendly alternative to conventional processes. It's a waterborne, corrosion-resistant poly coating that bonds through a chemical reaction.
Since we work with full assemblies, our customers can eliminate the costs of having to assemble after each part is coated individually.
Plastico Industries uses a large rack coating line, utilizing three robotic cranes and up to a dozen employees to manage the thirteen-stage autodeposition process. We clean the parts in an alkaline and acid-based wash, rinse them, and dip them into the paint. Following the coating, the parts move to a reaction rinse, which bonds the paint to the iron substrate. Finally, we cure the parts in our curing oven.
Because we are working with a wetting agent and do not rely on an electrostatic charge, our paint coats all touch points of a metallic part. For tubular parts or those with a channel, A-coat offers a significant corrosion protection advantage.
WHO USES A-COAT?
A-coat is most commonly used in the automotive industry for parts like seating components, brackets, and hinges. Plastico Industries works with a number of customers in the heavy equipment category, where they use our Aquence coating as a primer before a powder application.
We proudly supply A-coat to a few agricultural manufacturers in the area, who rely on it as a primer. One of these manufacturers also turns to Plastico Industries for our nylon powder as a top coat.
On top of the above categories, Plastico applies A-coat to office furniture, fan shrouds, fitness equipment, carts, racking, fencing, and architectural finishes.
THE SIMPLE FACTS
For the right parts, there is no coating more effective and cost-efficient than Aquence. Though it's a little choosy in what it bonds to, A-coat meets or exceeds performance standards of other metal coating technologies. It's clean, ultra-thin, and ideal as a primer coat or a Class B finish. Plus, Plastico Industries has the ability to A-coat millions of parts each week!
Now that's good for business, 'A'?