In the mass finishing world, isotropic finishing refers to a component's surface showing little or no imperfections such as grinding marks, burrs, peaks or valleys.  Webster's definition reads "exhibiting properties with the same values when measured along axes in all directions.
Why is this smooth surface important?  Well, two of the main factors that affect a components lifespan are friction and wear, so by reducing these factors increases the parts life cycle and reduces cost.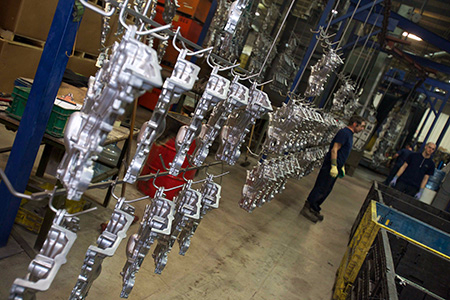 There are many different methods of Isotropic Finishing.  It can be done by blasting, lapping and electropolishing.  However, the most common methods are done via vibratory and centrifugal barrel processes.  At Latem Industries Limited, we offer both vibratory finishing and centrifugal barrel equipment to achieve the required results. 
Vibratory processes involve submerging a part into a bowl or u-tub, along with media, water and compounds.  Media can consist of ceramic, steel, plastic…even walnut shells or corn cob.  The friction created by the media rubbing against the parts, along with the chemical accelerants/compounds creates a smooth surface.
Centrifugal Barrel processes use the same medias as vibratory finishing.  The difference with this machine is it uses a rapid rotation/g forces to finish the parts with a smooth surface. 
Manufacturing processes inherently creates stress risers and vibratory finishing reduces or removes them.  Vibratory finishing and centrifugal barrel equipment both provide a repeatable process that leaves the component with a non-directional, uniform finish at competitive pricing.
Many industries benefit from Isotropic finishing.  Medical/dental, automotive, OEM, aerospace, firearm, military and agricultural are but a few.  Let Latem Industries help you with your Isotropic Finishing requirements. Contact us today for more infomration.