Powder coatings protect metal parts from weather, corrosion, and whatever else you throw at it. Two of the most popular powder coating options are nylon and polyester coatings, each of which have broad applications in a variety of industries. These are a few of the main considerations when choosing between nylon coating vs. polyester plastic coating.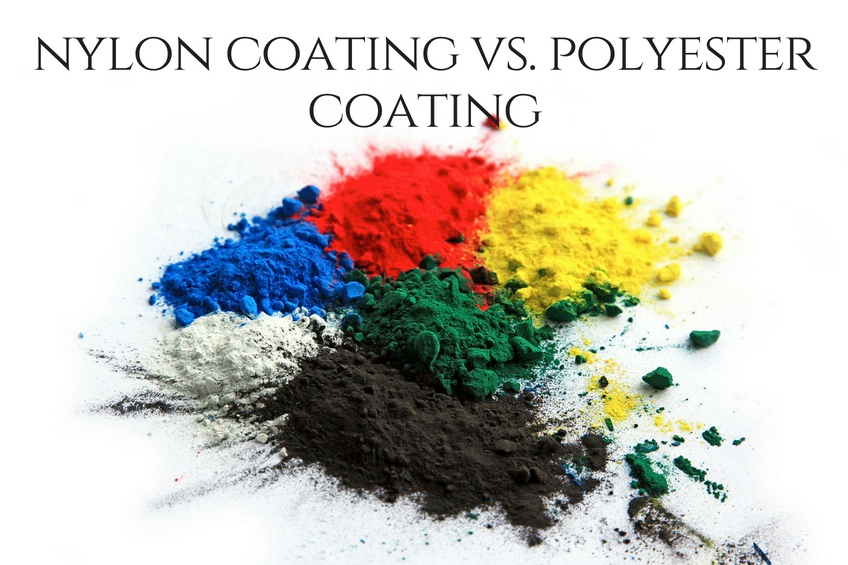 Heat Resistance
An important difference between nylon coating and polyester coating is how each material reacts to heat. Nylon is a thermoplastic, while polyester is a thermosetting plastic. While the two sound similar, the distinction is important if the part to be coated will be exposed extreme temperatures.
Thermosetting plastics start out as separate polymer compounds. When subjected to sufficiently high temperatures, these polymers react to form a strong chemical bond. This bond is irreversible, and the plastic coating will remain solid even under extreme heat. In other words, poly coating is a one-way street: once it hardens, it is not possible to reform or recycle it.
Thermoplastics like nylon coating are different. Although thermoplastic compounds also melt under high heat, there is no chemical reaction involved, so the process is reversible. You can re-melt and re-form nylon coating as many times as you require! It is even possible to recycle nylon and thermoplastic coatings.
To borrow a metaphor, where thermoplastics are akin to butter, thermosetting plastics are more like bread. A baker can repeatedly melt and cool the same stick of butter, but they cannot break a loaf of bread back down into its ingredients!
For this reason, poly coatings are more heat-resistant than nylon coatings, but nylon coatings have advantages in other high-performance applications.
Durability
Depending on the application, both polyester and nylon plastic coatings can protect the surface of metal parts from abrasions. Polyester coatings tend be flexible, with impressive impact and chemical resistance. However, this is an area where nylon coating wins out overall.
Once applied to a part, nylon coating flows out to form a continuous, protective bond to the surface. This creates a powerful, resilient barrier against salt, UV rays, and all manner of wear-and-tear. Nylon coating remains durable even in thin applications, making it ideal for tight tolerances. Arkema's ® Nylon 11 coating, one of our products of choice at Plastico, is specially designed to give metal parts a longer shelf life.
A secondary advantage of nylon coating is its low friction coefficient. This gives it an ability to cut noise and vibrations from the parts it covers, contributing to a safer work environment and helping to prolong the life of the machinery.
Sustainability
Manufacturers are increasingly becoming mindful of their impact on the environment. For those who are looking to incorporate more sustainable practices, nylon offers a renewable and eco-friendly powder coating solution.
Nylon coating is derived from castor beans, the product of a perennial plant called the Ricinus or castor oil plant. In addition to being recyclable, nylon coating carries almost no carbon footprint! Choosing nylon coating signals to customers that you care about your impact.
Nylon vs. Polyester Coating
Your choice of powder coating will depend on the part's application and the performance you desire from the coating. Here at Plastico, we are confident in the superior performance of nylon coating, but we are happy to recommend powder coaters who specialize in poly coating as well.
Learn more about our powder coating services in Cambridge, Ontario.