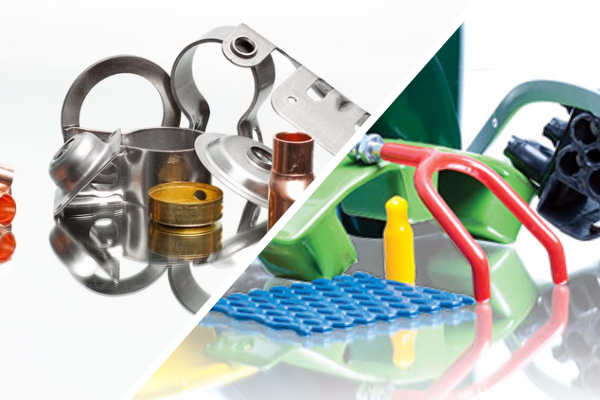 Finishing is an essential step in preparing fabricated metal parts and components for assembly and/or sale. The quality of the finish, including the application of protective coatings, will have a monumental impact on the product's ultimate performance and longevity.
In other words, you need a mass finishing and coating partner you can trust, without fail, every single time.
We are proud to offer key advantages that will not only improve the quality of your products but help you cut costs and streamline your production as well!
1. One-Stop-Shop For Mass Finishing & Mass Coating
Latem Industries offers a full range of mass finishing processes, including parts washing, ultrasonic cleaning, blasting, peening, vibratory finishing, tumbling and sanding. We have close to a dozen vibratory units, multiple barrel tumblers, blasting and peening machines, two drum washers and what is quite possibly the largest commercial ultrasonic cleaning set up in Ontario.
Through our sister company Plastico Industries, we can also offer you numerous mass coating solutions. All our coating processes, including spray nylon and dip nylon coatings, Plastisol coatings, and Polyarmor coatings, are engineered to meet demanding automotive, heavy equipment and military specifications.
2. Smooth Pick Up and Delivery
Our 45,000 sq. ft. mass finishing and coating facility is conveniently located just off Highway 401 in Cambridge, Ontario. You've probably spotted our big blue sign on your commute!
Because of this location, we are able to offer shipping at a very competitive rate from the Kitchener area to the Greater Toronto Area.
For help with your trucking needs, call our Logistics Department 519-740-0292 ext. 247.
3. Industry-Leading Staff Expertise
With an ever-changing workload, experienced staff is a must. We invest in our employees through continuous education and training to stay ahead of the curve on all our processes and equipment.
You can count on Latem for a consistent, time-efficient finishing process each and every time.
 
4. Flexibility On Process and Volume
You'll benefit from our flexibility in both sides of our businesses! Plastico and Latem Industries run two shifts a day, and many of our employees are cross-trained on a vast array of equipment and processes. This flexibility enables us to offer finishing and coating services for small runs, one-offs and prototypes in addition to mass production.
5. High-Quality Assurance
We have achieved recognition as an ISO 9001:2015 certified metal coater and finisher, demonstrating our commitment to the high level of quality and consistency our customers expect. Our most recent ISO audit was conducted in 2019 by The Registrar Company, a trusted certification body accredited by the ANSI-ANQ National Accreditation Board (ANAB).
See the ISO 9001:2015 Certificate of Registration for Plastico Industries and Latem Industries Ltd.
6. Experience and Technical Capability
Latem and Plastico have been in business for a combined 50+ years, polishing our processes and rounding the burrs that have come up along the way. We have plenty of experience putting out every kind of 'fire' that can pop up in mass parts manufacturing: sharp edges, rust, oil...the works!
Whether you're dealing with a common manufacturing flaw or a brand-new product, you can count on us to come up with an ingenious solution.
7. Rapid Processing Time
You've got deadlines to meet! Finishing and coating are just two parts of a much bigger picture, and we know you can't afford any delay.
With our well-trained staff and ample equipment, we're able to commit to speedy processing times. We're heavily automotive-based, so we're well-acquainted with tight turnaround and the need for urgency.
Let our scheduling department impress you with what we can do!
8. Location, Location, Location
Did we mention we're just minutes off the 401 in Cambridge, Ontario? Latem set up shop here for a reason! Not only are we able to deliver impressive shipping rates throughout the Greater Toronto Area, but we're located in the heart of Southern Ontario's manufacturing centre.
Latem Industries is proud to be the premier metal finisher in Southern Ontario.
9. Transparent, Competitive Pricing
To put it simply, we wouldn't have stayed in business this long if we weren't competitive! From closely watching efficiencies to improving processes and cycle times, Latem Industries is committed to offering competitive rates that help keep your production costs in check.
10. Environmentally Aware
Did you know our nylon powder coating is derived from Castor bean oils? Our Aquence coating is also environmentally sustainable, containing no heavy metals and very few volatile organic compounds (VOCs.) We also have an extensive wastewater treatment system that'd make a small city jealous!
Plastico and Latem Industries are committed to sustainability and constantly improving our environmental awareness.
At Latem Industries, we can say with confidence that you can count on us for your coating and finishing needs. You don't have to take it from us - ask any of the hundreds of North American manufacturers who partnered with us over the years!
Call us at 1-888-664-9998 or reach out online to learn more about our mass coating and mass finishing services in Southern Ontario.