Imagine processing and shipping thousands of parts to your customer – only to discover your shipment was rejected due to rust.
Rust or corrosion is a significant issue in manufacturing facilities large and small, impacting resources and increasing operating costs. Rust is difficult to prevent and nearly impossible to anticipate on manufactured parts.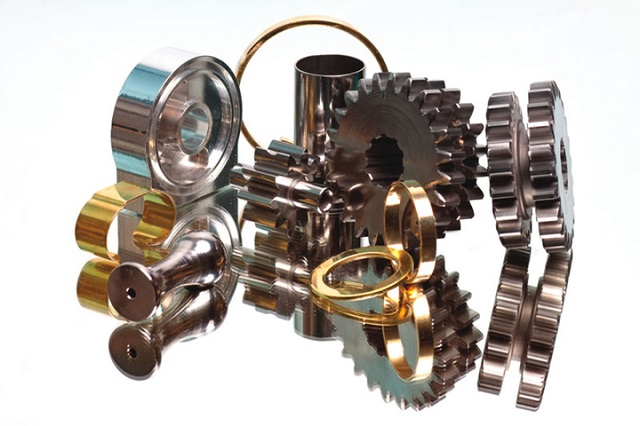 When rust occurs, leading manufacturers look to Latem Industries for metal finishing solutions. Here's how we can help.
So, What Exactly Is Rust?
Rusting is the common term for corrosion of iron and its alloys, such as steel.
Rust is an iron oxide (usually a red oxide) that forms when iron and oxygen react in the presence of water or air moisture. There are several types of rust that form under different circumstances and are distinguishable visually and by spectroscopy.
Surface rust can be spotted or flaky and does not protect the underlying iron, which enables the oxide to grow. With enough time, oxygen and moisture will eventually convert an iron part entirely to rust and disintegrate it.
How Latem Solves the Problem
Latem Industries uses various processes to remove rust or corrosion from processed parts:
The best process for removing rust from mass quantities of parts is often determined by the extent of the corrosion and the geometry of the part.
For minor rust problems around your home or workshop, you can try using this simple home solution: salt + lime. Sprinkle a little bit of salt on the rust, then squeeze the lime over the salt until it is soaking. Let the mixture sit for 2-3 hours and then remove the rust with the lime rind. This can also be done with a lemon, but we like the salt and lime a little more because they double as margarita ingredients.
Mass Metal Finishing Solutions for Rust or Corrosion
Latem (metal spelled backwards) has the capacity to clean away rust from millions of parts daily. Whether the part is the size of a thimble or as large as a sheet of steel, we have the best processes available to quickly and cost-effectively remove rust.
Once the rust is removed, we treat each and every piece with a rust inhibitor.
So, when rust impacts your operations, call Latem or use the easy Get a Quotation link on our web page.
Latem Industries has acquired two new systems to enhance and extend our parts washing services.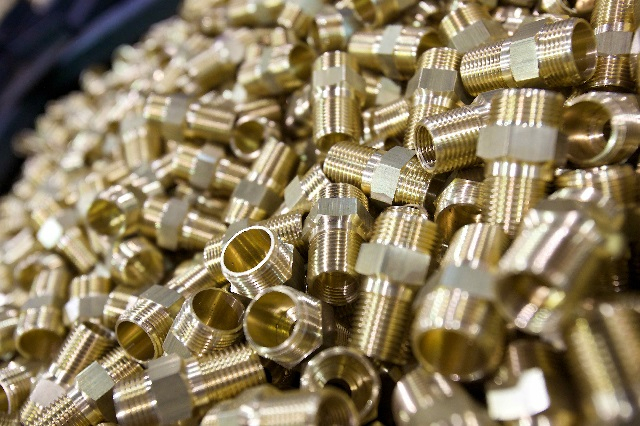 The Universal 81W cleaning system is a modular design parts washer that utilizes both ultrasonic cleaning and high-pressure immersion. It is suitable not only for removing oil from mass-produced parts but also for the fine cleaning of assembly parts.
In conjunction, we have also purchased our first particle analysis system: the Jomesa HFD4 (High Focal Depth) Cleanliness Analysis System. This state-of-the-art equipment is a fully-automated particle analysis system for measuring, counting and categorizing contamination on filter membranes. It can detect metallic, non-metallic, or fiber contamination at a microscopic level, allowing us to demonstrate our results with precision testing and proof of cleanliness.
We're eager to combine these two systems to meet and exceed your parts cleaning needs. These investments reinforce our pursuit of perfection in parts washing and ultrasonic cleaning.
The team at Latem Industries is proud to announce our recognition as an ISO 9001:2015 certified metal finisher. We've worked hard to implement processes and produce results that meet these rigorous quality standards.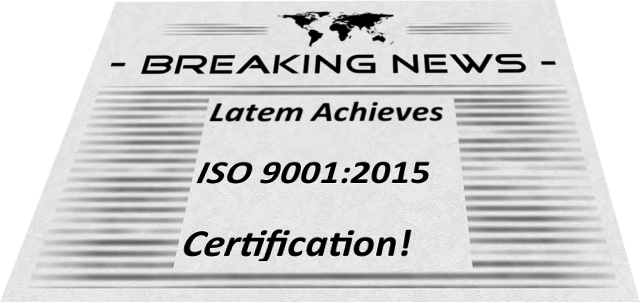 For Latem Industries (and our metal coating company Plastico Industries), ISO 9001:2015 certification means:
Latem Industries' top management demonstrates leadership and commitment to upholding a Quality Management System that meets ISO 9001:2015 standards.
Our Quality Management System comprehensively addresses risks, opportunities, changes and quality objectives.
We have plans and processes in place to meet our customers' requirements for our services.
All our employees have the training and resources they need to support our Quality Management System.
The roles and responsibilities necessary to uphold this commitment have been assigned, communicated and understood.
We continuously monitor, measure, analyze, and evaluate our Quality Management System with an aim to improve wherever we can.
Below, we'll explain why being an ISO 9001:2015 metal finisher matters to us and our customers.
ISO 9001:2015 Certification: What Does it Mean?
The ISO is the International Organization for Standardization, an independent international organization that sets quality, safety and efficiency standards.
These standards apply across all industries, products and services, including metal finishing. The ISO is recognized worldwide and endorsed by both the Standards Council of Canada (SCC) and the American National Standards Institute (ANSI).
ISO 9001:2015 is the latest revision to these standards. ISO 9001:2015 provides a clear roadmap to guide companies like Latem Industries in meeting (and surpassing) customer expectations and regulatory requirements.
Being ISO 9001:2015 certified is something that matters both to us and our customers. Internally, it demonstrates our commitment to the quality and consistency our customers expect. That means delivering exceptional metal finishing services and customer service that goes above and beyond what our customers expect.
When you see that a company has earned ISO 9001:2015 certification, you can trust that their promises are backed by a universal quality management process.
Latem's ISO 9001:2015 Certificate
How do you know if a company is ISO 9001:2015 certified? A Certificate of Registration like this one.
This certificate demonstrates that Latem Industries' Quality Management System and processes passed an independent audit by an accredited certification body. Our audit was conducted by The Registrar Company, a trusted certification body accredited by the ANSI-ANQ National Accreditation Board (ANAB).
ISO 9001:2008 vs. ISO 9001:2015
If you're already familiar with the previous standards set in 2008, you'll find few changes in the ISO's current criteria. What has changed is:
New structure (expanding from 8 clauses to 10)
Renewed focus on top-level accountability, involving the highest levels of management in implementing and maintaining ISO standards
Emphasis on risk management throughout the organization, using the system as a preventative tool that encourages continuous improvements to process
More flexibility for organizations like Latem Industries to develop ISO documentation in a format that meets our needs as a industrial metal coater
Alignment with other key management system standards
Work with a Certified Metal Finisher
Latem Industries is proud to produce results that meet internationally-recognized quality standards. Start working with an ISO 9001:2015 certified industrial metal finisher today.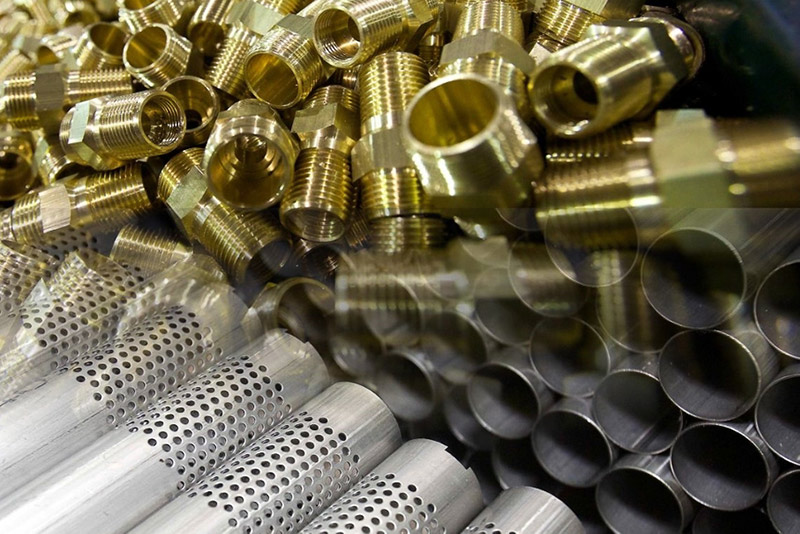 When given the proper protective coating, metal parts can function more effectively and last much longer. However, before the coating process can start, an important preliminary procedure is necessary. As the effectiveness of the coating depends greatly on the quality of the surface, not performing pre-treatment means the surface is in less-than-optimal shape. That leaves the metal open to corrosion, adhesion, flash rusting, weld pullaway, and impact resistance issues, the very problems that proper coating prevents. Here are five common pre-treatment steps to prepare metal parts for coating.
Disassembly
Many different types of parts pass through our facility every year. Some are single pieces, while others consist of several different components. In most cases, the latter requires disassembly, because the coating process will not benefit each part (or could even damage some).
Cleaning
Just as you would not paint a dirty surface in your home, some parts need to undergo cleaning before coating begins. Pressure washing and ultrasonic cleaners are very effective methods. Extra care is necessary when using cleaning solutions as some metals are especially sensitive. Exposure to the wrong chemicals can create damage that is not visible to the naked eye, but serious enough to compromise both the coating process and the life/utility of the part.
Our sister company, Plastico Industries, uses proprietary cleaning compounds that produce excellent results, while also being environmentally friendly.
Stripping
Even after cleaning, it may be necessary to perform this additional step to ensure an entirely clean surface. Some parts are not new and already have remnants of a previous coating still on them. It is necessary to strip any remaining bits of paint, plastic or another form of finish before applying the new coating. Failure to do so means the new layer will not properly adhere.
Outgassing
The idea is to make sure you reach bare metal before the coating process begins; outgassing is another way to achieve this. It is not obligatory for all parts, but ones made of cast aluminum or cast iron tend to be more porous. That can allow oil and other contaminants to get inside. Applying the coat with those materials still present undermines the part's ability to perform and last the expected lifespan.
Outgassing involves baking the part in an oven at a temperature that causes the oils to burn off. There is often some smoke generated as a result.
Shot Blasting and Shot Peening
Shot blasting involves the high-speed projection of steel shot at the material chosen for coating. The shot permeates the surface, and this dislodges the foreign matter. The blasting media used varies depending on the type of metal being treated and the desired finish.
Shot peening will also clean the surface of parts scheduled for coating. With this process, the shot performs the same function as a ball-peen hammer. Both of these processes have the added benefit of strengthening the metal, thus reducing the likelihood of corrosion, cracking, and stress failure.
In an industrial setting, metal pieces aren't always ready for use right off the assembly line. Deburring is a necessary step in the manufacturing process for many metal components. There are a number of ways to remove sharp edges and burrs from metal parts, including vibratory finishing and barrel tumbling.
What is Metal Deburring?
Manufacturers employ a variety of machining operations to turn metal blanks into useable parts. These methods, which include welding, milling, grinding, shearing, and engraving, often leave the seams and edges of metal parts with rough edges or protrusions of material. These imperfections are known as burrs, and the process of removing them is called deburring.
In addition to being unsightly, metal burrs have a negative impact on the safety, functionality, and overall quality of the parts. Small notches can cause moving parts to catch, increasing the chance for accidents or unnecessary production delays. Sharp edges pose a safety hazard to both workers and end consumers who handle the parts. The presence of burrs can also interfere with the application of other finishing processes, such as powder coating and electroplating.
Left alone, metal burrs can create potentially costly issues for manufacturers. Metal deburring is essential to ensure the quality and functionality of metal parts.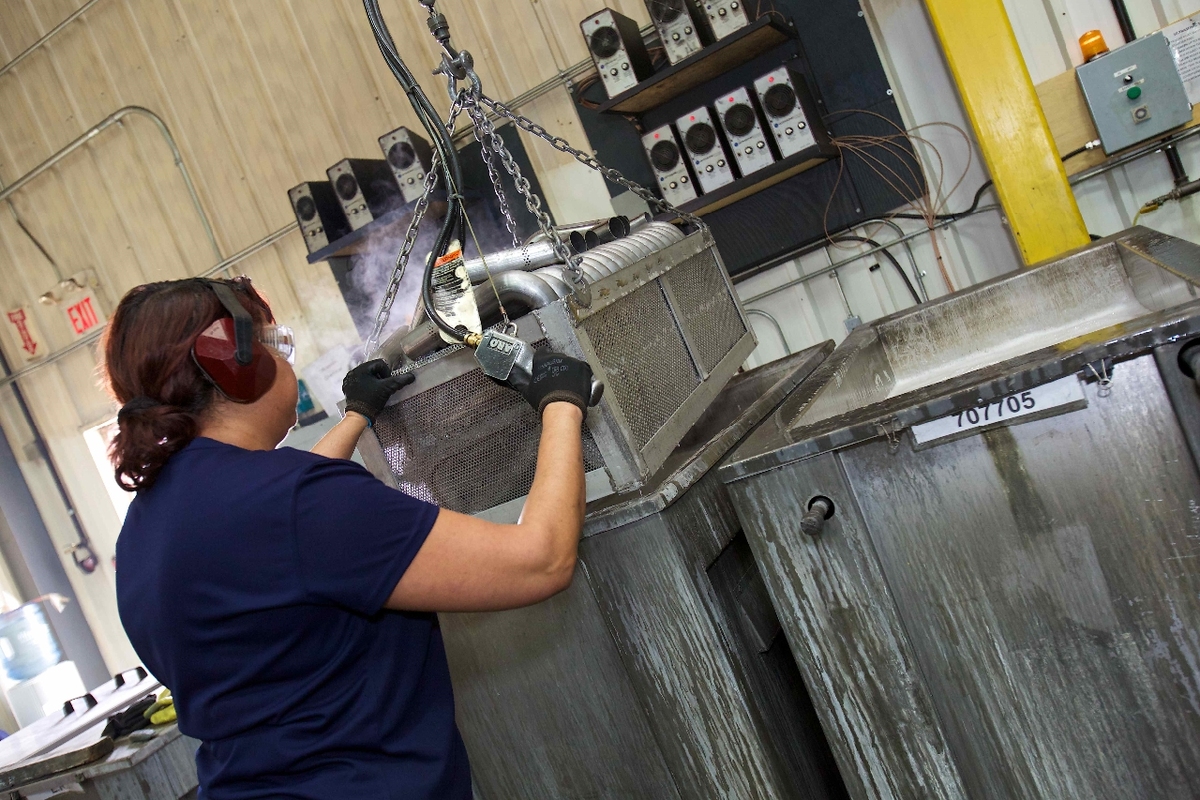 Ways to Remove Sharp Edges and Burrs
There are many processes for metal deburring. Five of the most common deburring methods are manual deburring, electromechanical deburring, thermal deburring, vibratory finishing, and barrel tumbling.
Manual deburring: A skilled craftsperson can remove burrs by hand using specialized manual deburring tools. Manual deburring is flexible and cost-effective, but it requires a significant investment of time, making it unsuitable for finishing a large quantity of parts.
Thermal energy method: Also known as the thermal deburring, this method uses a combustive reaction to burn away burrs in a sealed chamber. Thermal deburring can quickly target burrs on multiple surfaces and many pieces at once.
Electromechanical deburring: Metal burrs can be dissolved using an electrical current combined with a salt or glycol solution. Electromechanical deburring is useful for small, precision pieces that require deburring in hard-to-reach places.
Vibratory finishing: For softer metals parts, vibratory finishing is a less aggressive but highly efficient deburring method. Vibratory finishing involves placing the part in a rotating barrel or vibrating bowl along with a mix of liquid and abrasive components, such as ceramic, plastic, or steel finishing media. As the machine rotates, the media continuously rubs against the part in a corkscrew motion to remove sharp edges and other metal imperfections.
Barrel tumbling: The parts are placed in a tumbling barrel, which rotates at high speed to brush the pieces together and achieve the desired finish. In addition to deburring, barrel tumbling can be used to de-flash, de-scale, clean, or remove rust from metal parts.
Choosing a Deburring Method
Each metal deburring method has advantages and drawbacks depending on the type of metal, the size and shape of the component, and the finish you desire.
Manual deburring is rarely feasible in a large-scale industrial setting. Where a manufacturer machines hundreds or thousands of parts each day, vibratory finishing and barrel tumbling are often the most efficient and effective way of removing sharp edges and deburring. By choosing the proper method and the correct deburring media, you can clean or deburr a massive number of parts in a relatively short period.
Latem Industries is a trusted mass metal finisher for industries across Ontario. We'll help you choose the deburring method that best suits your needs.
Contributors
Latest Posts
Archive
2019

2018

November

October

September

August

July

June

May

April

February

January

2017

December

September

August

July

June

May

April

March

January
Tags
Everything
Parts Washing
Shot Blasting and Peening
Tumbling
Vibratory Finishing