Latem serves many industries, however the bulk of our business comes from Ontario's automotive manufacturers. A lot of our customers are stampers (see picture above – thanks Google). As big and expensive as these presses look, and these are small compared to some of them, they're not perfect. And to be honest, we love it, because when the die in that press malfunctions, it could mean burrs, sharp edges or excessive oil is left on the part. Either of these scenarios could pose big problems to the stamping facility, because holding up production for their customer, usually an assembly plant, is NEVER an option.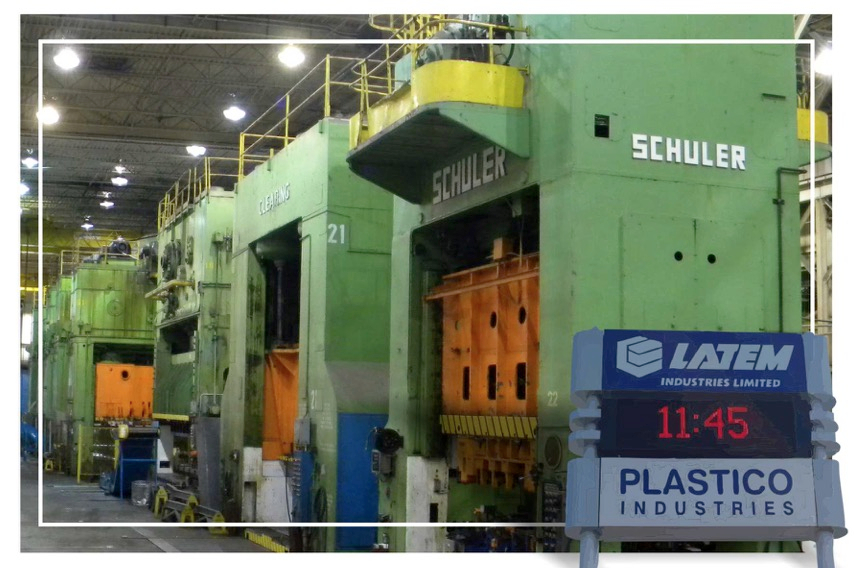 The Superhero of Our Story
Enter Latem Industries in Cambridge, Ontario. We are in the manufacturing solutions business, and for the last 40 years, we have made problems like these, amongst many others, simply go away. It is our sole reason for existence, and we've existed for 40 years.
We offer solutions using vibratory finishing, burnishing and tumbling, shot blasting and peening, drum washing and ultrasonic cleaning. All of the above are tried, tested and proven daily as seen in the volume of parts we process weekly, which is well into the millions. ­
So How Do We Remove Sharp Edges?
Did Clark Kent let the world know he was Superman? We can't give all our secrets away, but we can tell you this. We have two main processes for tackling this issue. One is to vibe the parts using a mixture of compounds, media and parts. It may sound simple, but the choices made here need to be very specific, including the right compounds, the right media and even the volume of parts to process in one cycle. Time is also crucial. Not enough time, and you don't solve the problem. Too much time and you run the risk of damaging the parts.
How Do We Get Rid of Rust?
We celebrate 'Rust Season' like a child celebrates Christmas. Our customers however, not so much, so when that reddish-orange stuff starts to appear, traffic picks up quite rapidly at our shipping doors. We'll see truckloads of parts every day, all with the same problem…rust.
Latem Industries has a number of processes to solve this problem. Depending on the part, we can shot blast, tumble, vibe, and for that 'white rust' found on aluminum, ultrasonic wash will usually do the trick.
How Does Latem Remove Oil?
After stamping, parts often move on to be coated, or straight to assembly. These massive presses use stamping oils in their process, which often becomes a hindrance in the next step. Oil removal may seem like a pretty simple issue to tackle, but it can be tricky. Knowledge is key, because parts still need to be protected. They also need to be turned around extremely fast!
We have a number of washing machines, no not Maytag, to handle these problems. Always part dependent, we can vibe, tumble, ultrasonically clean or use one of our massive drum washers to remove the oils.
Why Does Latem Do All of This?
Because we're very good at it, and also because we thoroughly enjoy it! Even after forty years however, we're still learning. As manufacturing processes evolve, so too must we, if we are to continue to solve problems for our customers.
| | |
| --- | --- |
| | Dave Mattingly at 11:00 PM |
Perhaps our new website says it best, "we don't play dirty, but we do like playing in the dirt." After all, dirty parts are where we got our start in this business in 1977. Since then, it's been a whirlwind of activity, challenges, large peaks and deep valleys. In the end, there is always something exciting happening on our floor.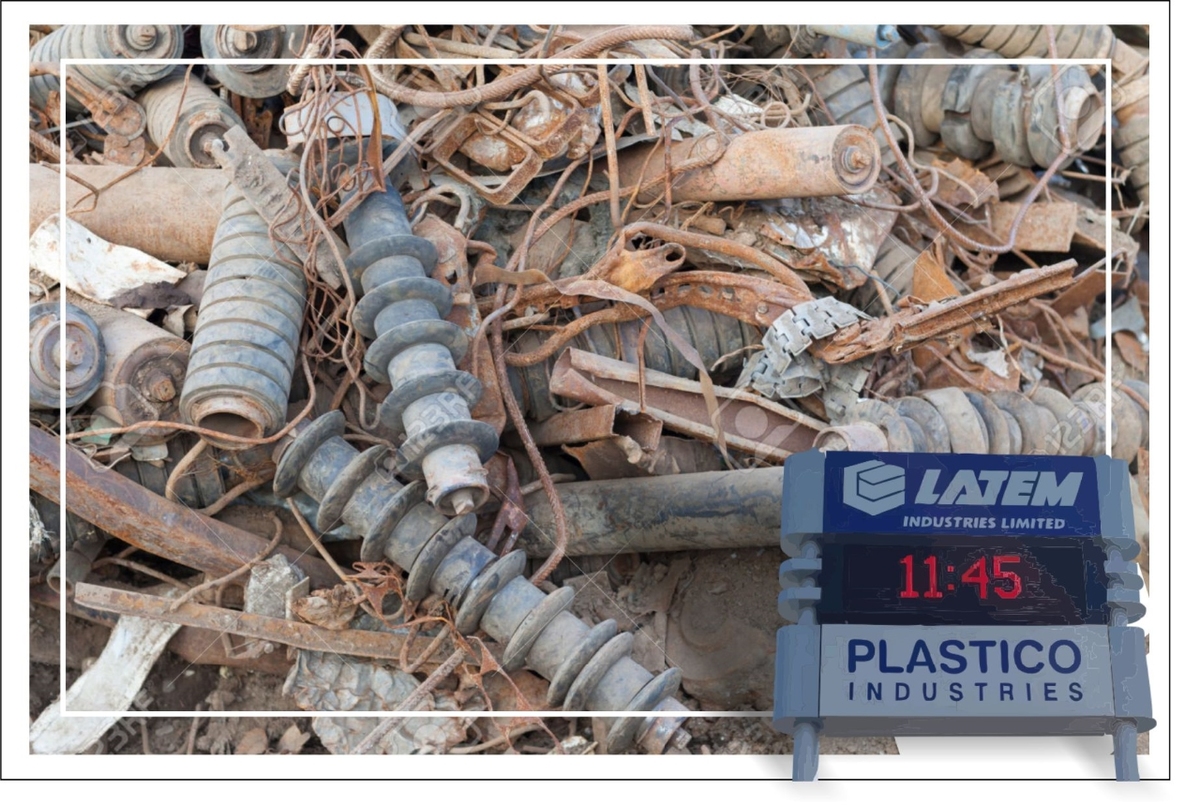 Versatility is Key to Our Success
From auger, or drum washing, to barrel tumbling, shot blasting and vibratory finishing, Latem Industries is processing millions of parts every day. We also feature one of the largest commercial ultrasonic cleaning capacities in Ontario. Our ultrasonic baths are perhaps our most effective and most efficient way to clean parts that need to be handled with a little more care. Latem Industries has a complete ultrasonic department, with multiple set-ups, giving us the capacity for general cleaning, as well the ability to hit tight cleaning specifications.
We don't pigeon hole our processes, but here is how, traditionally, our services are broken down.
Parts Washing
Latem Industries uses an auger washing process to clean significant volumes of parts in a short period of time. We even have a separate unit used to specifically clean scrap, or excessively dirty parts. Auger washing is used primarily to remove oil and/or dirt.
Our ultrasonic department handles the more delicate parts, usually aluminum. It is very versatile process, allowing us to remove oil, some greases, and both white rust found on aluminum part, and that nasty red stuff found on other metals.
Vibratory Finishing
Our capacity in this department is impressive. We have enough vibratory machines to fill several tractor trailer loads. The takeaway for our customer here is not only capacity, but each machine uses a different media, allowing multiple processing options, and therefore finishes. We also use Latem compounds and rust inhibitors, which are inherent in the process.
In vibratory metal finishing, we can wash, remove corrosion, take away sharp edges, remove burrs and even polish parts to a bright shiny finish.
Barrel Tumbling
Our tumbling barrels (note the plural) are pretty aggressive. We use a variety of processes here, but the most common is a part on part technique, with a mixture of our own washing compounds and rust inhibitor.
Tumbling is a common operation for pretty much the exact same requirements in vibratory, however, barrel tumbling is more suitable for smaller, hardened metal parts.
Shot Blasting
We have tractor trailer loads of equipment in this department as well. Like vibratory finishing, each blasting unit is different from the one next to it, so again, it completely broadens our scope within this department. When it comes to metal parts, there is very little we can accomplish in this department.
Shot blasting is common for rust removal, weld zone clean up, heat treat scale removal and for improving the surface finish of a part before it is coated.
Shot Peening
Very similar to shot blasting, and in some cases, even using the same equipment, we peen to achieve a supplied specification.
Why Latem?
It's Latem's extraordinary assortment of finishing services, plus our variety of individual processes within each service group, that set us apart from our competitors.    
When you add to this the knowledge from forty years of service, plus multiple employees with 20 plus years, there truly is no other mass metal finishing supplier that can offer what Latem Industries delivers.
| | |
| --- | --- |
| | Dave Mattingly at 4:25 AM |
Latem Industries is celebrating 40 years of mass metal finishing in 2017, which brings us well into the billions for parts that have passed through our doors. What started out with just a few vibratory bowls and some 'washing machines' has grown into one of Canada's largest and most respected mass metal finishing companies.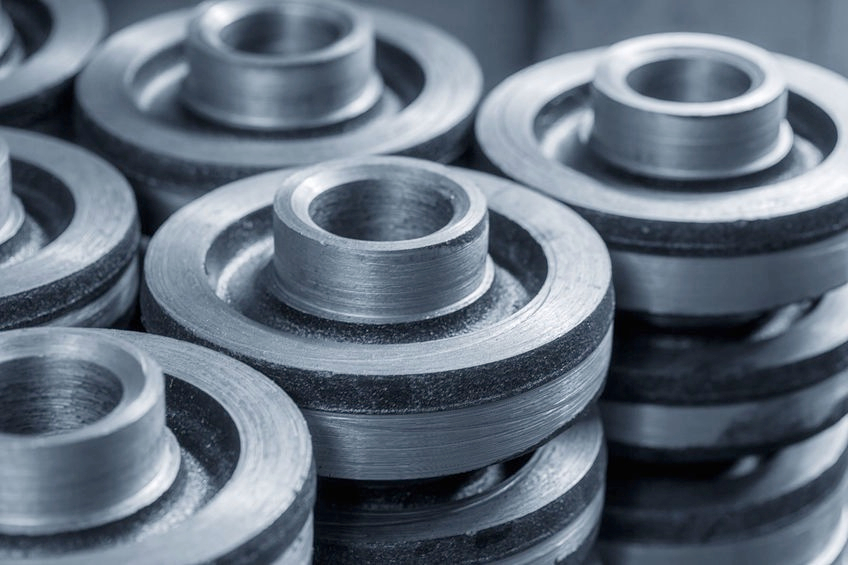 With multiple machine configurations in shot blasting, shot peening, vibratory finishing, tumbling and parts cleaning, we continue to be a preferred supplier in the automotive, heavy equipment, agriculture, and furniture industries. Located just off HWY 401 in Cambridge, we have positioned ourselves well to serve Ontario's core manufacturing sector.
Billions of Parts Processed
The numbers don't lie! Saying we have processed billions of parts over the years is not an exaggeration. This means we have the experience to serve your business. We have seen just about everything on our floor, and if a new challenge does surprise us, we have the best minds in the business to tackle it.
Our Lead Hand has been in a Latem uniform for well over 30 years, and she'll be the first one to tell you there is much more to this stuff than meets the eye. It really isn't as easy as dumping parts into a cement mixer and letting gravity do the work. To do it right, and get it done efficiently takes planning, which is where our services come in. No one knows this industry as well as our team at Latem Industries.
Effective Processes
Our processes can be aggressive, and may need to be in order to get the job done, whether it be for shot peening, shot blasting, metal finishing, or deburring services. But for those parts that tend to be a little more sensitive, depending on the desired outcome of course, we have a selection of proven techniques considered a little less abrasive, and yet are still designed to reach very specific goals.
Regardless of your requirement, once we have your parts, our operations and production teams work in sync to determine the best and most efficient course of action and establish a proven process to move forward. Your parts are then recorded in our system, by part number and process, so that every time they show up at our door, our production team has a process flow and a checklist to follow in moving your parts through our operation.
If 40 years of mass metal finishing has taught us anything, it's that we really don't know everything. This is perhaps what keeps this business so interesting. We have most of the answers, but it amazes even our experts that every once in a while, there is a welcomed surprise. It forces us to stay alert, to not get complacent and to continue to push for results. After all, our customers demand results, and demand them quickly. It is Latem's experience that will deliver.
| | |
| --- | --- |
| | Dave Mattingly at 6:14 PM |
No one wants a fire, but let's face it — fires happen. In the world of manufacturing, a 'fire' can refer to everything from sharp edges to rust, oil, and poor surface finishes. These are the roadblocks we face in the mass parts manufacturing industry.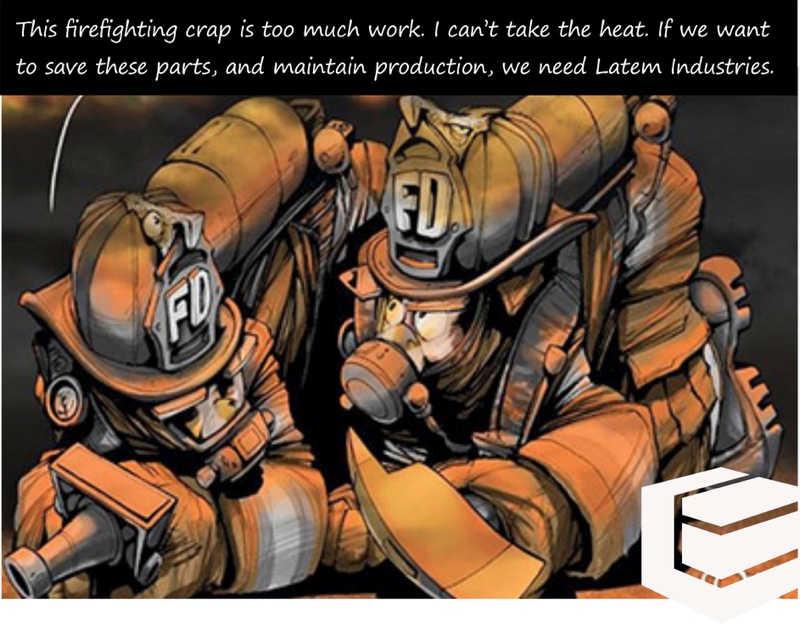 In a perfect world, every part would come out of a press or CNC machine (or even out of storage, for that matter) in pristine condition, without a blemish to be found. Fortunately for us, we don't live in this perfect world. If we did, there would be no need for Latem Industries!
Fighting Fires for Ontario's Manufacturers
Ontario's top manufacturers and assembly plants set a benchmark that determines whether a manufactured part is ready to be handled and assembled into the finished product. A team of engineers establishes a specification for the part, which is often included in the part drawing, and passes it down to the many tiers in the manufacturing process. A manufactured part is only acceptable when it meets the engineers' standards.
Of course, some of it is pure common sense. If a part looks unacceptable, it probably is!
When 'blemishes' like sharp edges occur, manufacturers outsource the part to one of only a handful of capable finishing companies. Latem Industries just happens to be one of them.
Latem Industries has a proud reputation in the world of metal finishing, shot peening, shot blasting, and deburring services. Our name is synonymous with honesty and reliability. And because a large volume of the parts we see daily come from our local automotive industry, we are known for turning parts around very quickly.
Canada's Mass Finishing Expert
No one expects a 'fire' to break out. It can be a devastating and extremely costly setback if a customer's production parts aren't ready for assembly. Ontario's manufacturers rely on Latem Industries to put out the fire.
As our lead hand would say, "we've done this before." We've proven over and over that our metal finishing processes work. Our metal deburring, shot peening, and shot blasting techniques can smother fires in no time.
Stand outside our driveway on any given day and you'll be amazed at the volume of truck traffic. It looks like something you'd find on a section of Highway 401! The fact that we have 18 loading bays and 80,000 ft2 of processing space says a little something about how much business we see. More importantly, it speaks of the trust our customers have in us.
When a die starts behaving badly and leaves sharp edges or burrs on a part, manufacturers email us for help. We run the parts through our vibratory department as quickly as possible. When the manufacturing process leaves too many oil deposits on a part, we get phone calls asking for the best wash solution. When a coating won't adhere well to a substrate, our customers call and ask, "Now what?" And when Ontario's fifth season hits (rust season, our favourite!) our email inboxes and phones light up like the 4th of July.
We don't wear special uniforms or hard hats, and we don't carry an axe. We certainly aren't heroes (though the word has been thrown around by a customer or two). But there's no other mass metal finishing company in the country that can fight fires as well as Latem Industries.
| | |
| --- | --- |
| | Dave Mattingly at 4:04 PM |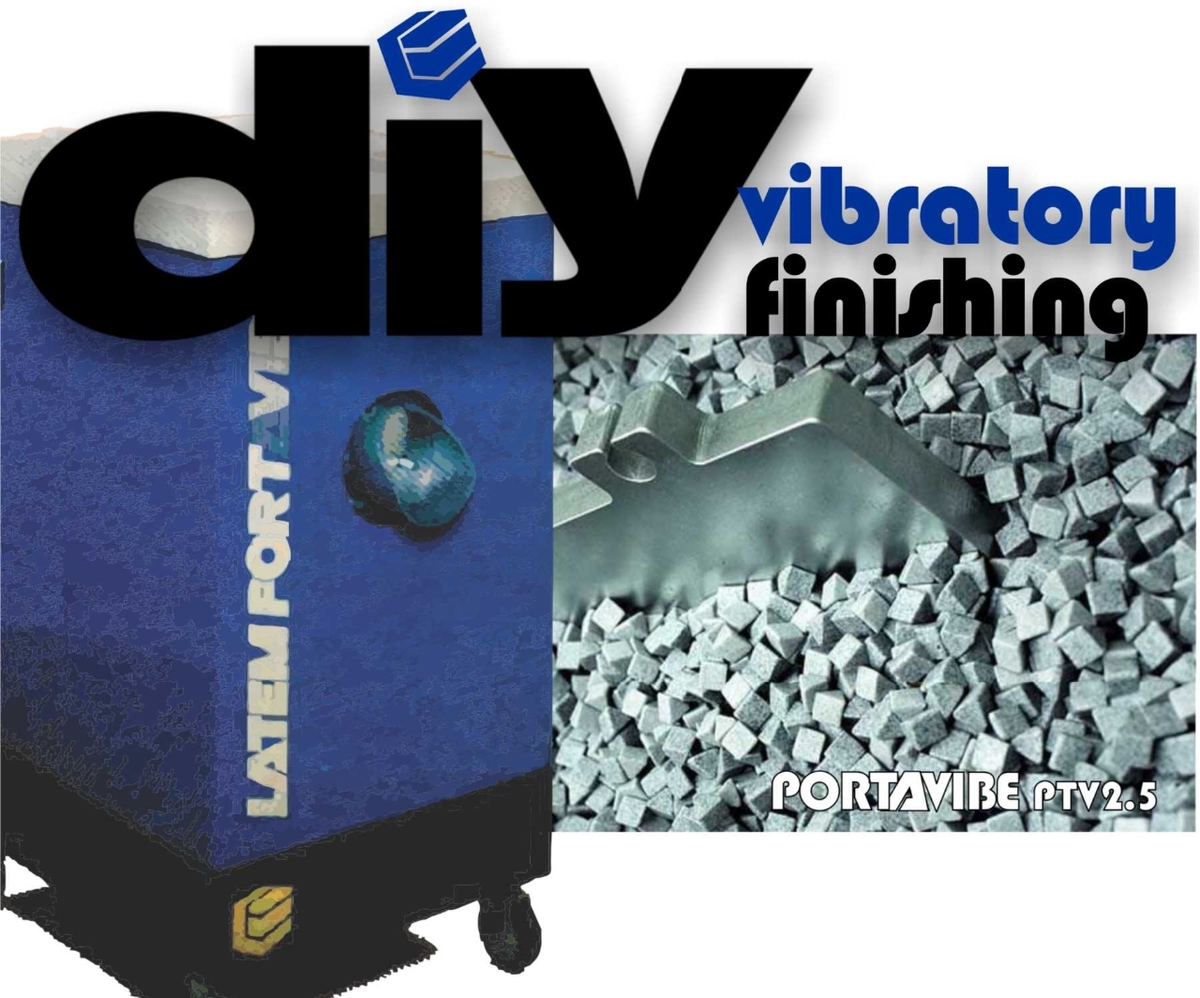 As a mass finishing job shop, it should come as no surprise that we see significant volumes of parts on a weekly basis, volumes well into the millions to be exact. Our equipment has been set up to manage those volumes, and as such, each piece carries with it a minimum charge. These minimums are required in order for us to recoup the expenses to run our equipment, regardless of the volume of parts we are processing.
When it comes to vibratory finishing, a process used for edge break, burr removal, cleaning, 'polishing' and even rust removal, a minimum charge is established based on a suggested, or provided, bin quantity. If the number of pcs/bin are not maximized, a minimum charge applies. For the vast majority of our customers, large volume manufacturers, the min charges are of no concern. We do however, also have a number of smaller customers, who at times struggle to meet that minimum volume requirement.
Enter Solution B! While nothing would make us happier than to see your parts on a regular basis, logistics, volumes, and other factors don't necessarily make a mass finishing job shop the most efficient resource for some operations. Latem's Portavibe PTV2.5 could be the perfect answer to taking that edge off.
This 2.5 cubic foot portable vibratory unit operates on the same basic principles as our much larger machines. Parts are processed in a polyurethane lined tub, which promotes the effective transfer of vibratory energy to the working mass of media and parts. Our PTV2.5 is economical and versatile, perfectly suited to tackle smaller volume finishing challenges, all with the distinct benefit of being portable.
Our PTV2.5 operates on a 1HP, 3400RPM motor, with a unique quick-change drive system that protects the heart of the unit from processing contaminants. The heavy duty polyurethane lining on the tub is a minimum 1/2" thick, and up to 1" thick in heavy wear areas. With 2.5 cubic feet of processing space, there is ample room for various sizes of parts, along with media and cleaning compounds.
Latem Industries Portavibe PTV2.5 is ideal for a number of processing challenges, and on a variety of substrates, such as steels, aluminums, copper, and even some resin materials.
For more information, contact me, Dave Mattingly @ 519-240-0739
| | |
| --- | --- |
| | Dave Mattingly at 8:30 PM |
There are some cultures who celebrate their failures as much, and often more, than their successes. Failing should be seen as an opportunity to try again, and to do better. It builds character, as trying harder next time is like laying the foundation, or the first building block to eventual success. It also keeps us humble and should be a valuable reminder that true winning comes only with hard work.
In our business, we certainly don't strive to fail, but oftentimes our first kick at something does not produce the results we were hoping for. We have a number of processes that can be used to achieve similar results when it comes to finishing mass metal parts. Determining factors as to which process is most efficient usually comes through running samples prior to getting into regular production processing. Perhaps our biggest nemesis is the clock, as time is almost always critical to our customers.
This is where our production team steps in. Latem Industries has the benefit of knowledge on our side. Celebrating 40 years of mass metal finishing in 2017, we also boast a number of employees who have surpassed 20, 25 and even 30 years on our floor. This team has been running our wash, shot blasting/peening, vibratory and tumbling departments since the early 80's, a time when Trudeau Sr was running our country. Knowledge is power, and it is key to us determing quick solutions for our customers.
Sure, we still fail every once in a while, but we always have a Plan B and even Plan C to turn to.
| | |
| --- | --- |
| | Dave Mattingly at 10:20 AM |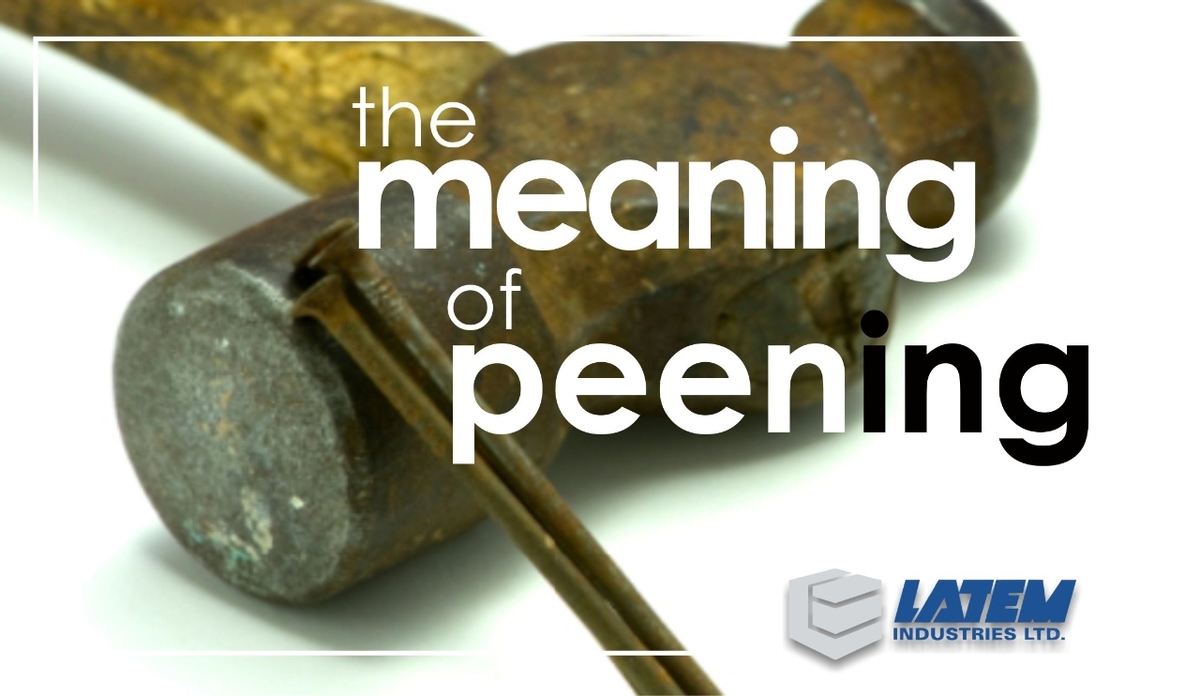 Shot peening is a process by which a surface is continuously pounded with steel shot (other materials can also be used), with a force powerful enough to create a plastic like deformation. The main goal of shot peening is to produce compressive residual stresses, thereby strengthening a metal part.
Shot peening is very similar to shot blasting, except that it relies on the plasticity of the process as opposed to the abrasion.
Whereby shot blasting will remove unwanted contaminants from a metal substrate, shot peening is used to pound a metal part, 'leveling out' the peaks and valleys. The end result is similar to a ball peen hammer, yet much more consistent, and more efficient.
Latem Industries, in Cambridge, Ontario, is an industry leader in both shot peening and shot blasting, with multiple automated units, designed to process both small and significantly large volumes of product.
| | |
| --- | --- |
| | Dave Mattingly at 7:32 PM |
We don't like boxes! So we do our very best to get outside them as quickly as possible because getting stuck would mean we don't have a solution for our customer. And solutions are what we're all about at Latem Industries.
We've been solving problems for Ontario's manufacturing industry since 1977, and while many of the challenges we see are similar, it amazes even us that after four decades, new problems still pop up from time to time.
It's our Engineering and Operations team that sets us apart from the rest, and keeps us outside that box. New challenges are a big part of what keeps things interesting at Latem Industries, and our team simply refuses to give up, turning over every possible stone to find the right solution.
If you're looking for answers to sharp edges, rusty, dirty or oily parts or just looking for the right surface preparation, take a deeper look at Latem Industries at www.latem.com.
| | |
| --- | --- |
| | Dave Mattingly at 9:18 AM |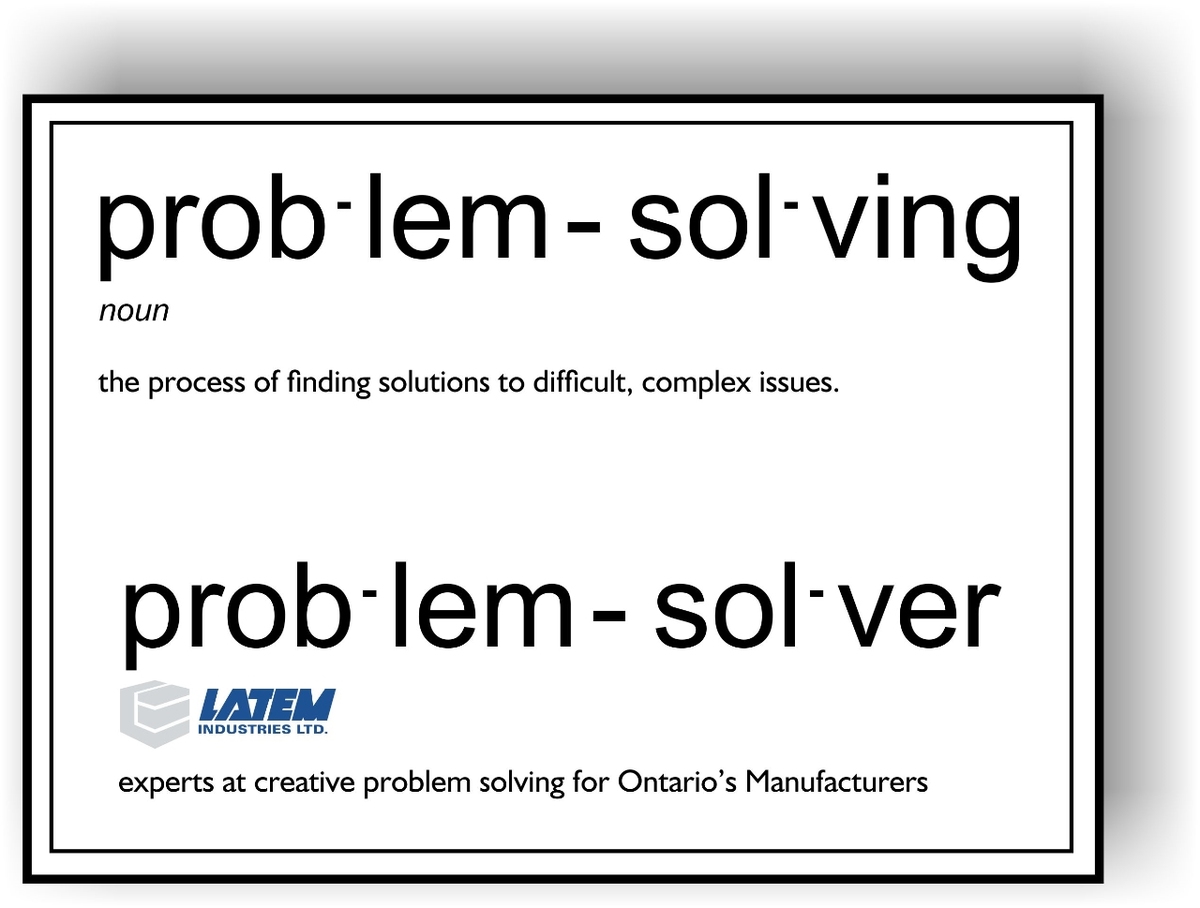 | | |
| --- | --- |
| | Dave Mattingly at 4:10 AM |
To most people, a media war means one newspaper against another, or it's newspaper vs radio. To us, it's quite a bit more in depth than that.
Media is a main ingredient in the majority of our processes at Latem Industries. Each of our vibratory bowls and tubs contains thousands of pounds of ceramic, plastic, cob or steel media. This selection allows us to remove small burrs and sharp edges, remove corrosion, burnish and/or polish a massive volume of parts at once. Our variety of media positions us well as we have the ability to tackle and solve many problems facing Ontario's manufacturers.
In our blasting department, we use a selection of steel ball media which is used to blast off heat treat scale, remove rust or to just remove surface impurities. We also use this steel shot to strengthen metal parts through our shot peening processes.
Latem Industries is proud to partner with Washington Mills Media, an American based media manufacturer, and one of the worlds largest producers of abrasives and fused mineral products. Unlike some other finishers, who prefer an off-shore product, our media gets the job done quicker, with a product that is designed to last longer.
It means not only ensured consistency with our incoming shipments of media, but more importantly a consistent finish for our customers, who simply do not have the time to re-work parts due to improper or poor processing.
See for yourself! Spend a little time on our website, latem.com, check our our gallery, or better yet, send us some samples. We'd be happy to run a few pcs through our processes and give you a first hand look at our capability.
| | |
| --- | --- |
| | Dave Mattingly at 12:00 PM |
Contributors
Latest Posts
Archive
2017

June

May

April

March

January
Tags
Everything