Mass finishing, in its most basic definition, is the same as individual parts finishing, using many of the same methods, just in mass quantities.  When metal is worked to form a shape, whether it be through laser cutting, waterjet procedures, stampings or any other of the numerous ways to shape metal, it usually comes out of the process with sharp edges, exhibiting oil or stains, surface scale , rust, as well as other defects.  The metal part has to then be either sanded, filed, washed, etc. to prepare it for its next stage, be it welding, coating or assembly.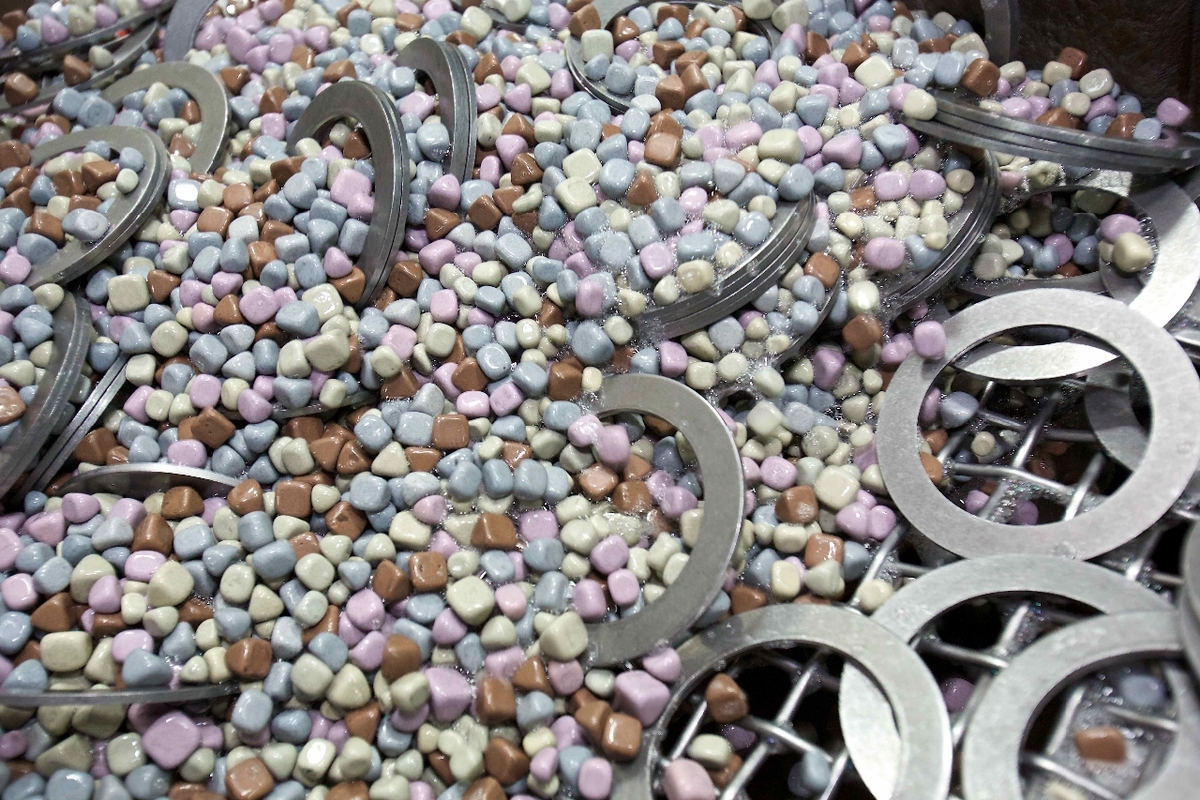 This stage can be very expensive due to the individual handling and processing of the metal parts.  This is where mass finishing comes into play.  The goal of mass finishing is to deburr, edge-break, burnish, radius, descale, clean, de-flash, rust removal, polish, brighten or even harden the surface, but to do it in mass, to reduce the cost expenditure per part. 
Mass Finishing can be done in different machines, but usually involves compounds and media.  Compounds are used to remove stains and rust as well as to brighten parts or remove scale.    Media is used to remove burrs, remove scale, refine surfaces as well as buffer parts from one another.  Media can be plastic, metal or organic.
Several factors will determine which machine, media and compound is used.  Certain compounds will not work with certain metals.  The correct compounds can assist with the process required, lessening cycle times.  Improper sized media can become trapped in part weld joints or holes, where as improper shaped media can degrade faster or not reach into required areas.   Different machines work differently as well.
Vibratory: Vibratory mass finishing systems come in a few different configurations, including bowl designs, oval race-track designs, u-tubs as well as continuous flow through machines. Parts travel through the machine, media, compound and usually water wearing down the edges, scale, etc.  This process is much like how small rocks, sand and water wear down jagged rocks over time.

Centrifugal: Centrifugal finishing is also known as tumble or barrel finishing. Centrifugal machines lend themselves well to efficiency and automation. They operate at speeds over 300 revolutions per minute, with the bonus of no part-on-part contact. These machines achieve this by generating centrifugal force, which keeps the parts at the barrel's periphery.  This process is also extremely efficient at polishing parts as the media gently wears on the outer surface.   With the correct media and compounds, mirror surfaces can be attained.  This process also can be used quite effectively on 3D part's imperfections.
Latem Industries Limited has been mass finishing for over 40 years.  We would love an opportunity to assist you with your mass finishing requirements.